Let Us Help You With All Your Internet Marketing!
Digital marketing has taken an important spot in today's marketing mix. Chances are that you have already shifted budget from traditional media channels like print advertizing, radio and TV towards your online marketing efforts.
Why Outsource Your Digital Marketing?
When talking to our clients about digital marketing, we hear statements like these:
"I understand that I need to do more online marketing but frankly, I don't know how to go about it."
"I am a small business owner and I am maxed out with my day-to-day business. Simply, I don't have the time to manage my website and my own online marketing."
"I have tried to update my website and take care of the social media but I came to understand Internet Marketing is not trivial. I need help!"
"My competition is ahead of me in all relevant keyword searches. I don't know where to start with my internet marketing".
"I have set aside a budget for my online marketing efforts but I don't know how to spend it wisely."
Hire Us As Your Virtual Online Marketing Assistant!
Having us on board gets us on your team. We will work for you on all your Digital Marketing needs. It feels like hiring staff, except you don't need to provide any office space or deal with the hazzles of pay role, sick leave and vacations. Simply contract us, and you can select from a range of the following services and book them on an ongoing basis for as long as your commitment goes.
Digital Marketing Goals and Benchmarks
We at Pinpoint Media Design have structured, analytical minds (or so we'd like to think of ourselves). Your Digital Marketing campaign can only be as good as it has been laid out to be. According to your specific business needs we will:
Set short, medium and longterm internet marketing goals
Set benchmarks to measure results against
Collect data and feedback
Present written reports for analysis and accountability
Suggest and discuss next steps and new goals
Our reporting system will prove your success!
Don't take our word for it: You will be able to hold us accountable for every penny you spend on your online marketing programs with us.
Here is the deal: Our Virtual Digital Marketing Assistant Program comes with detailed monthly or bi-monthly reports. According to the selected plan, we will provide you with personal one-on-one business meetings (via Zoom or physical, when and where possible).
Exclusivity Granted: Digital Marketing that works only for you,
One thing is clear: How could we possibly promise -let's say- two bakeries in the same town the same top spot in the search engines for the same keywords? It is obvious that this is impossible and doing so would be unethical.
Therefore, every client that signs up with us in the Virtual Online Marketing Assistant program is granted exclusivity within their industry, and the effected geographical area. Details will be negotiated when a concrete agreement is arranged.
Dedicated Internet Marketing Project Manager
At Pinpoint Media Design you will receive a dedicated, experienced online marketing project manager, supervised directly by Pinpoint Media Design owner, Henning Geiler. The manager will personally attend the reporting meetings (where physically possible) and present your online marketing results to you and at every meeting set new Internet marketing goals and benchmarks.
Talk to Us
Request a free consultation on our Virtual Digital Marketing Assistant Program!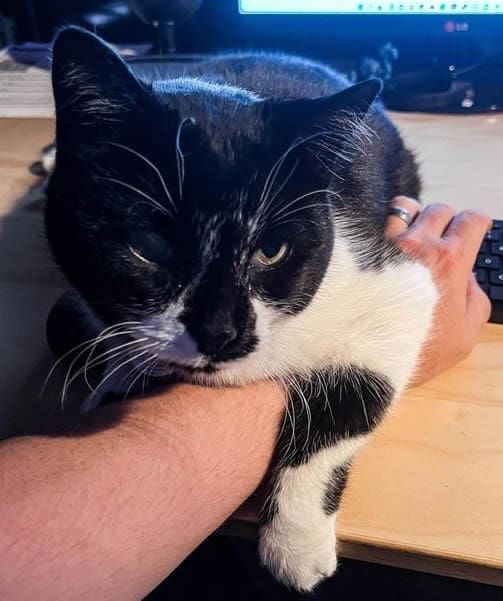 Many paws make light work.
Sheldon
Feline Digital Marketing Assistant