Terms of Service, Conditions & Policies
Pinpoint Media Design strives to have open lines of communication and keep our clients happy to the best of our ability and within fair reason. It is with this intention that we post our policies and terms of service & conditions on our website.
You should carefully read the following policies, terms, and conditions. Your purchase or use of any of our products or services implies that you (the "client") have read, understood, and accepted these terms and conditions.
Payment Terms
Overdue invoices will be charged with 2.5% interest per every 30 days, compounded every 30 days.
Web hosting and/or email accounts are deemed overdue on their expiry date. There is a grace period of 30 days after which hosting and email services will be suspended until full payment plus interest has been received. There is a $50.00 reinstatement fee for suspended accounts.
Domain name registrations are only renewed upon receipt of payment. Upon expiry, domains are suspended and enter a 30 day grace period, after which they go into redemption. Recovering a domain from redemption is an involved process and a $150.00 recovery fee per domain will be charged, payable in advance, if we are asked to recover the domain(s).
All other services are due immediately upon receipt of invoice. Interest will be charged on all amounts overdue for more than 30 days.
New website projects will be turned live after final payment has been received.
NSF Payments will be subject to a $50 fee.
Website Hosting and Domain Registrations
Web Hosting
Payment for web hosting is due upon receipt of invoice. Interest of 2.5% per month, compounded monthy, will be charged on all outstanding accounts, beginning at the date of expiry. Webhosting can be cancelled in writing by the client up to 30 days prior to the expiry date. Otherwise the service is renewed automatically for another billing period. Past due webhosting services will be left online for a grace period of 30 days. During the grace period, past-due interest will be charged. After 30 days, we will cease hosting services. Affected website and email services will stop working. There is a reinstatement fee of $50 plus HST.
Domain Names – New Registration and Ownership
Website domain names are leased from domain name registration companies. When Pinpoint Media Design registers a domain name for a client, it is made in the client's name. Upon payment of any outstanding fees, that client has the right to use that domain name regardless of whether they continue other services with Pinpoint Media Design. All new domain name registrations must be paid in full prior to our registering on your behalf.
Domain Names – Renewals
Domain name renewal and renewal fees are the responsibility of the client. If the client chooses to have Pinpoint Media Design renew the domain name on behalf of the client, they will be notified in advance of the renewal. Upon payment of the domain renewal fee, Pinpoint Media Design will renew the domain name for a set term – usually one year. Pinpoint Media Design is not responsible for expired or deleted domain names that have resulted due to:
no reply to domain name renewal notices, and/or;
late invoice payment on behalf of the client
Payment for domain name renewals are due upon receipt of invoice. Unpaid invoices for domain name renewals will result in expiry of the domain name and as a result, all associated services including emails will cease to operate. Failing to renew domain names may result in losing the domain name permanently or incurring expensive recovery fees (redemption period). All fees associated with the attempted recovery of expired domain names in redemption state will have to be carried by the client – $150 plus HST per domain. There is no guarantee that the domain name(s) can be recovered as the registrar has the right to auction off the domains after the grace period has expired. We are not liable for loss of domain names due to a client's non-payment of the invoice.
Email Accounts
Pinpoint Media Design offers email accounts with every website in different packages depending on your needs. All accounts include server level anti-virus and anti-spam protection as an option. It is up to the client to request that this feature be enabled when the accounts are being set-up. Although protection is offered, it comes with no guarantee, express or implied that it will catch every virus or spam message sent due to inherent difficulties the internet presents. Every reasonable precaution is taken by our hosting providers to ensure that virus definitions are up-to-date. It is up to you (the client) to ensure that you have adequate local system protection installed. Pinpoint Media Design will not be held liable for any data loss due to insufficient protection on your (the client's) computer(s).
Project Development
Initiation of Project & Submission of Content
The initiation of a web design or development project requries a signed contract, 50% deposit of project fee, plus client logo or any other material that is required to be used for the project.
All digital and non-digital materials supplied by the client to Pinpoint Media Design for project development must be either owned by the client or given copyright permission for publication. Pinpoint Media Design is not responsible for copyright infringements found on these materials.
All content must be submitted electronically via email. Text must be selectable as actual text rather than as flattened images. All text, photos, graphics, etc. must be clearly labelled with the name of the project and with clear instructions on which part of the website it will be displayed. Content submitted via fax or paper copies must be approved by us in advance and may be subject to a surcharge.
Website Concept Revisions
Design is subjective and everyone's tastes are different. We pride ourselves in the quality and variety of our designers' work, but do understand that modifications to a proposed design may be necessary.
It is the client's responsibility to clearly communicate their design preferences: colour, look, functionality, etc. for their website prior to the commencement of any design work. This can include using examples of other artwork and other web designs.
Our staff will work with our clients in an effort to accommodate their vision and changes within reason. We will make adjustments to the draft/mockup design template free of charge until the client is happy. However, if the client develops preferences or changes their mind after the approval of the website design or completion of the work, adjustments will be made at $75 per hour.
Project Timeliness
Pinpoint Media Design cannot complete a website if the client does not provide the content (text, images, photos, graphics, etc.) or other required elements (logo, account login information, etc.). If Pinpoint Media Design is waiting for content or other pieces of information, the client will be notified. If the client fails to handle the requests in a timely manner, the website may be delayed.
In order to keep projects on track, client-driven delays may be billed 60 days after project start date and add missing elements later if they are received. If more than 90 days have passed from the project start date and the client has still not submitted the remainder of the content, Pinpoint Media Design reserves the right to consider the project complete in its entirety and bill in advance for any future work.
Cancellation of Project Development
A request to cancel a project must be made in writing to Pinpoint Media Design and include the signature of the authoritative client. Pinpoint Media Design will charge for the number of hours accumulated in project development before any refund may be due after the cancellation request is made.
Web Design & Development Policy
Pinpoint Media Design reserves the right to reject any projects or content believed to promote racism, pornography, or anything that is objectionable in nature
Websites will have the text "Wasaga Beach Website Design by Pinpoint Media Design" or similar placed at the bottom of the website
Pinpoint Media Design reserves the right to include any projects created or developed by us in our portfolio, website, or newsletters
Upon full payment of all invoices due, copyright to page designs produced by Pinpoint Media Design for client shall belong to client
Secondary materials created by Pinpoint Media Design during production, including drafts, plans, graphic source files, and templates, remain the sole property of Pinpoint Media Design unless other arrangements are made
Service Guarantee
While we make every reasonable effort to ensure that our products and services are above standard, however we cannot control every variable. It is the client's responsibility to regularly test the functionality of their website or any other product or service to ensure that it is working as intended. If problems or errors are discovered, report the problem immediately so that we may take the appropriate action to rectify. We cannot be held responsible for perceived loss of revenue under any circumstances.
Content changes resulting from client error and/or problems related to third party vendors or technology may result in additional charges.
Technical Support
Clients whose websites are hosted by Pinpoint Media Design have access to emergency technical support. In the event of a problem, clients should leave a message at 705.794.3738 and if possible, send an email to [email protected].
Please note that technical support for clients' individual computer issues or for third party products or services cannot be provided by Pinpoint Media Design.
Termination of Services
If during the course of web design, development, or other services, the client decides to stop work with us, the client is responsible for the work already completed. Depending on the amount of work completed at the time of cancellation, there may be a full refund, partial refund, no refund, or additional fees owing.
Clients may terminate their account with Pinpoint Graphics at any time. Cancellation requests must be made immediately in writing via email or mail. All fees paid for service up to the notice of cancellation are non-refundable. Fees for web hosting, domain name registration and domain name renewals are also non-refundable.
Refusal of Service
Pinpoint Media Design reserves the right to decline business with any client for any reason at any time. We reserve the right to refuse, cancel, or suspend service at our sole discretion. Failure to follow any term or condition will be grounds for immediate account suspension and/or cancellation.
Limitation of Liability
Pinpoint Media Design will not be liable for indirect, special or consequential damages, or any loss of revenue or profits, arising in connection with the projects that we are in the process of developing or have developed
Pinpoint Media Design reserves the right to delay or stop any project development for any reason without liability. Pinpoint Media Design will immediately notify the client of any changes in the project development status and make appropriate arrangements. If a stoppage in development is caused by Pinpoint Media Design, the client will be refunded the deposit minus expenses
Client is solely responsible for the editorial content of the material included on it's website. Accordingly, client agrees that it will defend and indemnify (hold harmless) Pinpoint Graphics from any suit, demand, or claim resulting from the editorial content of the website
Client represents to Pinpoint Media Design and unconditionally guarantees that any elements of text, graphics, photos, designs, trademarks, or other artwork furnished to Pinpoint Media Design for inclusion in client's website are owned by client, or that client has permission from the rightful owner to use each of these elements, and will hold harmless, protect and defend isiteweb and its subcontractors from any claim or suit arising from the use of such elements furnished by the client
Pinpoint Media Design will set up web hosting for client with a professional hosting company known to be reliable. However, Pinpoint Media Design makes no guarantees as to minimum "uptime", nor shall it be held responsible for any direct, indirect, special or consequential damages resulting from possible lapses in hosting services. Such possible damages include any lost profits or business interruption or loss of digital data
Pinpoint Media Design will not be liable to client or to any third party for any damages arising from the use of website
Pinpoint Media Design will not be held responsible for any issues, damage, email problems, web site hacks or attempts, or downtime which results from the use of an outside hosting company, internet service provider, domain name registrar, or any other outside agency
It is the client's responsibility to advise us of any changes in business ownership, domain name ownership, address, phone number, email address, and any other contact information.
Changes to Terms of Service
Pinpoint Media Design reserves the right to change and/or update all policies, services, prices, terms of service without liability at any time for any reason.
If you have any questions regarding any of our policies, terms and conditions, please contact us.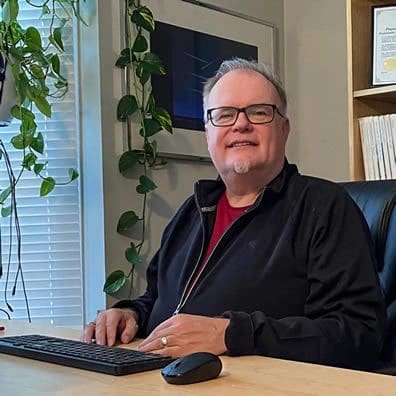 Please read the "legalese" carefully. Pinpoint Media Designs strives to always find common ground and solve any problems and disputes amicably. In the rare case that agreement on an issue cannot be reached, we will resort back to these terms and conditions that are the grounds for all any services Pinpoint Media Design provides.
Henning Geiler
Owner of Pinpoint Media Design