Digital Marketing Specialist in Stratford, Ontario
Pinpoint Media Design is an
Ontario web design
and
digital marketing agency
in beautiful Stratford. As an online marketing company with more than 21 years of experience, we are experts in developing professional campaigns that convert.
We are dedicated digital marketers, and serve clients in all of Ontario, Canada and the World.
Whether you are looking for a new campaign or are in need of a thorough review and redo of your existing online presence, you have come to the right place.
Pinpoint Media Design is here to help you design a marketing or advertising campaign that converts your website visitors to leads and sales. We will supply you with detailed reports that enable you to gauge your online success and check your ROI.
Word of mouth is our strongest asset. We encourage you to read the reviews and testimonials.
We would like to learn more about your project. For a cost proposal, book a free consultation with owner Henning Geiler.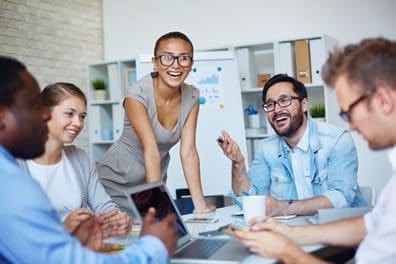 Nothing feels better than the first leads rolling in after the successful kick-off of a digital marketing campaign.

Digital Media Marketing for Small Businesses
& Organizations
What does digital marketing do?
Digital marketing is a general term for the marketing of services and products using digital means, mainly on the Internet, but also including mobile phones, display advertising, and any other digital medium. It includes disciplines such as SEO (search engine optimization), online advertising, social media marketing, content marketing, permissions-based email marketing and much more.
Is online marketing easy?
On the surface, digital marketing may seem easy. After all, anyone can post content on social media or set up a website. But when you look at the complexities of modern digital marketing, it's clear that successfully executing an effective strategy requires skill and experience. We at Pinpoint Media Design are professionals with an understanding of the latest tools and platforms and can develop an effective strategy tailored to your specific needs that drives measurable and repeatable results.
Do you provide SEO coaching so I can learn search engine optimization?
Yes, we do. We at Pinpoint Media Design pride ourselves as a full service digital agency that helps our clients along the way wherever we can. We provide SEO coaching for businesses or individuals, whether you are in Stratford, in Canada or anywhere in the world. By working with us, you will get personalized advice and guidance on how to optimize your website in order to maximize your visibility in the organic search results. Get in touch with owner Henning Geiler for a free online consultation to learn more on how we can support you and your team.
What locations does your digital media firm serve?
Pinpoint Media Design is located in Stratford, Ontario but we are very happy to offer our services anywhere in Canada and the world. We have many long-standing clients all over Ontario and even the world, reaching as far as Australia. No matter where you are, we are here to help you. If you are located in the United States or in Europe, you may be amazed at the highly competitive pricing that we are able to provide based on the lower Canadian Dollar. Book your free consultation and let us know about your specific digital marketing needs.
Do you offer SEO services for websites that you haven't built?
Yes, Pinpoint Media Design offers SEO and SEM services for all types of websites, including for those that haven't been built by us. We has the skill and experience to optimize your website and help improve its ranking on popular search engines. We will work well with your webmaster or inhouse web developer to get your SEO issues sorted out and under control. Please contact Pinpoint Media Design for a free consultation.
We are here to answer all your questions and encourage you to book a free 30-minutes consultation with Henning Geiler, the owner and chief developer of Pinpoint Media Design.
Mailing Address & Office Hours
Sat - Sun, Stat. Holidays
Our office is not open to the public. All services are provided remotely, using Zoom and other colaboration tools. Please book a free online consultation.
Pinpoint Media Design
183 John Street North
Stratford, ON
N5A 6L6
Canada