Henning Geiler, Owner and Chief Developer
Henning Geiler is an Internet Professional, Web Designer, Digital Marketer and Web Application Programmer with more than 20 years of experience.
He is the founder of Pinpoint Media Design, a Web Design and Digital Marketing Agency located in Stratford, Ontario.
Henning grew up in Germany where he graduated and worked as an engineer before moving to Canada in 2001.
A few months later, Henning started his web design business in Wasaga Beach:  Pinpoint Media Design is just celebrating its 20th business anniversary.
Henning Geiler is a past president of the Wasaga Beach Chamber of Commerce (2008 – 2010) and a past president of the Rotary Club of Wasaga Beach (2005 – 2006)
In his sparetime, Henning is an avid photographer who loves to travel places in the quest for the best snaps.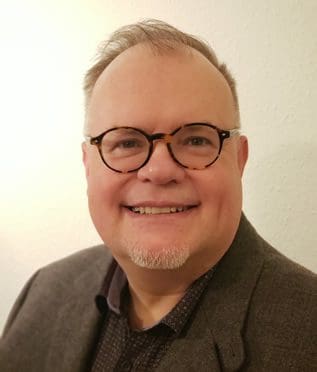 Henning Geiler, Principal and Chief Developer
Lynda Reynolds, Digital Marketing Strategist
Lynda Reynolds is the owner of Insight Social Media and has been working with Pinpoint Media Design as the chief digital marketing strategist since 2013.
She specializes in Social Media Marketing, Social Media Consulting and Permission Based Email Marketing.
When not at the computer, Lynda loves cuddling with her grandson, Landon. Lynda is also known as Gnoma, crafting the cutest life-sized "Porch Gnomes".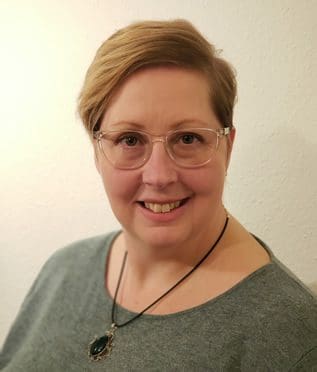 Lynda Reynolds, Digital Marketing Strategist
The Story of Pinpoint Media Design
Humble Beginnings: 2002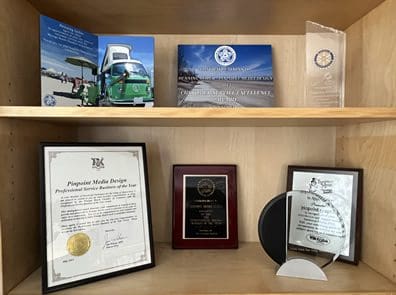 Pinpoint Media Design was established in 2002. Founder Henning Geiler opened his business in the lovely town of Wasaga Beach, Ontario, after having identified the increasing demand for local quality website design services.
Back in these days, out-of-the-box, open-source content management systems, such as WordPress, did not exist yet or were merely in their infancy.
Webmasters made a living of updating their clients' websites via ftp. It was a tedious process.
To come up with something better, more suitable for the local business community, Henning hunkered down for the first few months and coded his own content management system (CMS), which he dubbed Site.DFiner.
The eager programming project started small and humble but over time evolved into a custom web solution that even to this day is still in use as a content management framework on which we have built many of our custom web applications.
Celebrating the 20th Business Anniversary: 2022
The year 2022 marks an exciting occation: Pinpoint Media Design celebrates its 20th Business Anniversary.
As with many things in life, we ask ourselves: "Where has the time gone?" Henning remembers, just as if it was yesterday, how he walked into the bylaw office at the Wasaga Beach town hall to get his first business licence.
The Switch to WordPress Web Site Design
Today, as readily available open-source projects have gotten much better, Pinpoint Media Design switched from their own system to WordPress Web Design for new client projects.
Instead of spending the resources on a proprietary content management framework, Henning decided that it was a better use of resources to put the effort into the development of project specific WordPress plugins and other custom web apps where necessary.
The Full-Service Digital Media Agency
Over the years, Pinpoint Media Design's scope of work changed from being "just" a local website design outlet to becoming a full-service Digital Marketing agency by adding Digital Marketing Services to the portfolio.
To cover the larger scope of services, owner Henning Geiler decided in 2013 to rebrand the business name from Pinpoint Graphics, as it was formerly known, to Pinpoint Media Design.
Serving Clients in Ontario, in Canada and in the World
As Pinpoint Media Design took on more clients all over the Province of Ontario, Canada and also in other countries of the world, the physical location of the business became less important.
Moving away from personal meetings in coffee shops, offices and board rooms, we went "remote" even long before this became the big trend.
Henning considers it as great luck that, when the pandemic struck, Pinpoint Media Design was well prepared and able to assist the clients to counter the ill effects of this world-wide catastrophe by applying next-level web strategies.
The Stratford Chapter
In 2020, Henning Geiler and Pinpoint Media Design relocated to the beautiful Theatre City of Stratford, Ontario where we operate in a very inspiring, creative atmosphere.
For the next years, Pinpoint Media Design will continue to focus on client satisfaction to expand the geographical reach.